A Majority of People Would Lie About Their Cannabis Use to Get Lower Life Insurance Premiums Says New Survey
[ad_1]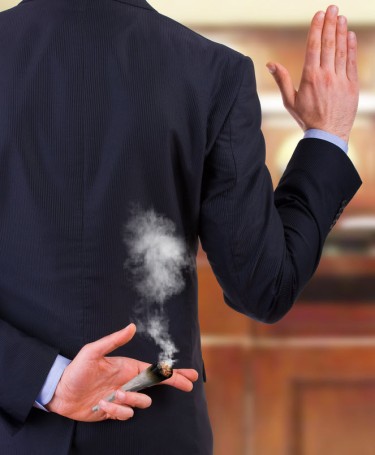 In the United States alone, there are 49.6 million cannabis consumers each year. On top of that, 18 states including Washington DC have legalized its recreational use while 37 more legalized it for medical use as of April 2022.  These figures are expected to double by 2025.
Given the rising popularity of cannabis use among recreational as well as medical users, how does life insurance fit in to all of this? Many insurance providers increase insurance quotes when people admit to cannabis use.
Getting life insurance is necessary for most people who want to benefit from protection caused by unexpected costs and expenses. It will also help make sure that the money you are saving for the future is protected, and ensuring that you have the capacity and resources to protect your family should something happen to you.

A recent survey conducted by Forbes Advisor showed that 56% of participants are willing to lie about their marijuana use to avoid these increased costs. It was also surprising that half of the people that were surveyed were actually aware that marijuana use could have an impact on life insurance costs. Overall, 60% of respondents said they would hesitate applying to life insurance because they consume cannabis, but 24% reported they did not want to be denied the service just because they use cannabis.
Most of the survey respondents also agreed that using cannabis recreationally should have an impact on life insurance quotes, and 13% of them disagreed. Meanwhile, 57% think that using cannabis for medical purposes should be a consideration while 14% did not agree.
Impact Of Cannabis Use And Other Factors In Life Insurance Rates
Upon application for life insurance, all individuals are given a health classification depending on your current health status as well as your lifestyle. You will be paying more for coverage if you have a lower classification. There are some insurance companies that categorize cannabis users on the same level as tobacco users, meaning that you would only be eligible for smoker rates that are typically as much as three times higher compared to non-smoker rates.
Meanwhile, other life insurance companies already offer non-smoker rates for cannabis users, sometimes even giving their best rates for marijuana users. Even though smoking does have an impact, the biggest factors that will affect your rates are any underlying health conditions you might have.
You may also be asked specific questions about your cannabis use, such as the type of cannabis you smoke or consume (synthetic or botanical), how often you smoke or consume cannabis, if you have ever been treated for alcohol or drug abuse, or if you use cannabis to treat a health condition.
When applying for life insurance coverage, it's always best to tell the utmost truth in your application. It's possible that insurance providers can discover the truth if they dig around your medical history and they can discover that you are indeed a marijuana user, and if you are caught lying, you can be charged with fraud.
Life insurance providers can deny your coverage if they find out it's fraudulent. Additionally, if you are caught lying after the policy has been sold, the policy can be voided. But the frequency at which you consume cannabis can also lower your insurance rates, so if you state that you smoke less than 8 days a month, then there is a chance that you could still qualify for decent rates depending on the company that you talk to.
Now if you smoke more than half the month, then you can be denied life insurance all together.
To sum it up, there are three possible outcomes that can occur if you apply for life insurance and are a cannabis user:
Even if cannabis is legal in your state and studies confirm that cannabis use is significantly safer compared to tobacco, for insurers, smoking is the same no matter what it is you're smoking.
Drug Tests
It's not uncommon for medical exams to be a requirement when applying for life insurance. Urine and blood tests may look out for THC.
If you admit to using cannabis but don't have any positive THC in your tests, there's also a chance that you could get lower rates. For this reason, it could be ideal to abstain for at least one month before your exam if you want to better your chances of a negative drug test.
When it comes to CBD use, the good news is that the rules don't apply to it. Most, if not all, insurers don't consider CBD in the same way that they do THC.
Other Factors
Even though you may have to pay a higher premium, honesty is always the best policy when applying for life insurance rates.
People who don't consume cannabis excessively, don't have any underlying health concerns that have prompted them to use medical cannabis, or have any marijuana-related DUI's or arrests have the best chances of getting the best deals at insurance policies.
Conclusion
Recreational or cannabis users shouldn't be deterred from getting a life insurance policy. Keep in mind that all insurers will treat cannabis differently, so it may take some time for you to shop around for the best policy for your specific needs.
LIFE INSURANCE AND CANNABIS, READ MORE…
CAN YOU SMOKE WEED AND STILL GET LIFE INSURANCE?
OR..
[ad_2]

Source link