Designs of the Times
[ad_1]

With thirty-seven states, four territories, and the District of Columbia allowing for at least medical sale and use of cannabis products, dispensaries have become fixtures in communities all over the United States. Meanwhile, the consolidation race at the north end of the market has led to more and more small, hyper-local businesses with devoted customer bases being gobbled up and "flipped" into national chains. The rapid proliferation of chains owned by multistate operators (MSOs) is bringing cutting-edge design and operations to every corner of the country—much more quickly, in some cases, than equally cutting-edge products arise to fill shelves. Though flips may seem almost de rigeur by now, successfully orchestrating one is much trickier than it might appear.
As the retail experience evens out across the country, it's an opportune time to explore the design elements that are essential to the well-dressed cannabis shop. What did the industry learn about design over the difficult past two years? How has the customer journey changed? And where are the biggest opportunities—and challenges—in the retail space?
MSO store brands
Challenges in establishing a national retail brand are numerous and nuanced, hampered by disparate regulation and slowed by deprioritization as MSOs focus on expansion over rebranding. Because much of their growth has come from strategic mergers and acquisitions, most MSOs own brick-and-mortar stores with a variety of names. But chains are beginning to arise, and every big operator has a store brand it envisions one day expanding to all markets.
With one of the biggest retail footprints in the country, Columbia Care has been hard at work transforming the more than 100 stores in its portfolio into the regal, art-deco-inspired Cannabist brand. Chief Growth Officer Jesse Channon believes the company's concept is better suited to the national market than the "sterile, pharmaceutical" stores that preceded it. "We spoke with customers and our internal employees and asked them, 'What do you want in a store?' And we got a lot of words like 'comfortable,' 'warm,' 'inviting,' and 'engaging,'" he said.
After acquiring Harvest Health & Recreation in late 2021, Florida-based heavyweight Trulieve is in the process of flipping its massive retail footprint into a tranquil, medicinal-focused, eponymous chain. "We're going to take what we've learned from the Harvest recreational model and what has been done really well at Trulieve, which are things like operational efficiency, and create a best-of-both under the Trulieve brand," said Andrea Bagneschi, vice president of design and development.
Fellow Florida operator Cresco is less known as a retailer, having powered its growth and ascendancy to the upper echelon with wholesale prowess. But in Sunnyside, the forty-something-store chain with locations in seven states, Cresco has matched its flair for product development with a stylish dispensary concept designed to serve a wide variety of consumers as effectively and efficiently as possible. "When we built Sunnyside, we really tried to focus on being an open, approachable space where people of all types could come in to get service," said Cris Rivera, vice president of consumer experience. "We really didn't want to sound too medicinal or too recreational, as we were serving two entirely different consumers, oftentimes in markets transitioning from medical-only to adult use."
The need to serve both kinds of shoppers led Cresco to develop the super-clean, white-and-orange stores that physically segregate visitors by type, funneling new customers toward consultation and experienced consumers toward express shopping. "We realized it's best to pair new customers with a member of staff to help guide them through the process to find what they need, whereas existing customers are all about getting in and out," said Rivera. "That means improving the online ordering experience and adding a lot of cash registers to ensure we can move customers quickly through the line."
Like Cresco, Florida-based MSO Jushi Holdings is obsessed with improving the operational efficiency of its sophisticated Beyond / Hello stores. Among the strong third movers in the MSO race, Jushi has leaned heavily into its techno-sophistication and was quick to adapt to the dramatic shift from in-person shopping to online ordering and express pickup when the COVID-19 pandemic hit. "In some ways, we are like a Silicon Valley tech company," said Chief Creative Officer Andreas Neumann. "We have [user-experience] people on staff working on both the digital and physical retail experience."
Elsewhere among the publicly traded MSOs, Ayr Wellness and Ascend Wellness Holdings (AWH) have developed somewhat similar retail concepts, sporting brilliant blues and sleek displays. Each company opted to use the corporate entity's name for its emerging chain.
Ascend stores are built around the idea of openness and personal connection, something executives felt was missing from the early iterations of cannabis retail. "When we entered this business, we didn't love the retail experience we saw," said Frank Perullo, the company's president. "It was behind glass, almost like a bank. What we wanted to do was break down the walls and get people talking."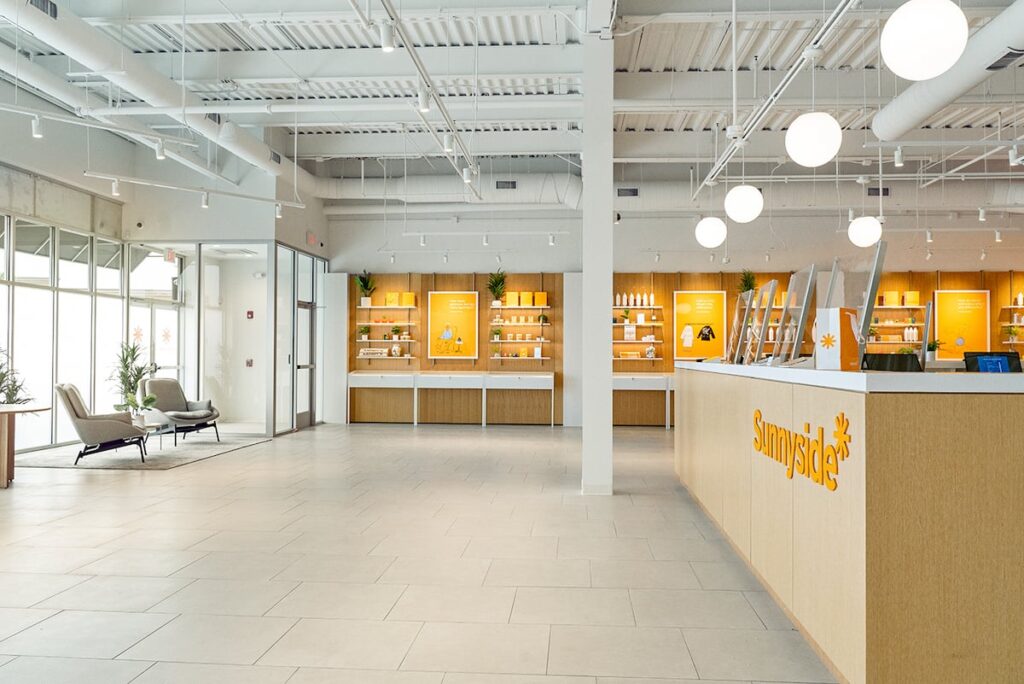 Fixed vs. flexible design
Most MSOs acknowledge there ought to be some flexibility in retail concepts to allow for local character to shine through, but there are varying degrees to which the feat is accommodated.
On one end, Cresco keeps its Sunnyside locations largely identical, maintaining aesthetic consistency across differently shaped spaces. However, Rivera explained, some dispensaries exhibit regional character through murals crafted by local artists. One such store is the flagship Fort Lauderdale, Florida, location. "How could you not put something beautiful there that represents Fort Lauderdale?" Rivera asked. "Our desire is to bring a little bit of that flair to our stores where we can."
Columbia Care maintains a relatively tight scope for its Cannabist brand, though Channon feels allowing some clearly defined wiggle room for local personality is important to create approachable neighborhood stores. "You have to trust our local teams to take centralized assets, the support, and the playbook and make [the stores] their own," he said. "There are going to be some aspects of San Diego that are different from Chicago or Florida, and that's good."
Columbia Care develops the infrastructure, provides the merchandising markings, and gives the operators everything they need to stay inside "guard rails" while leaving enough space for local teams to adapt the stores to their markets.
Las Vegas-based Planet 13, which operates only two stores at the moment, aims to offer a unique aesthetic at every location. Instead of using a mold, the company carves out brand consistency in terms of scale, spectacle, and tech-forward installations. This speaks to the challenges of adapting a gargantuan Las Vegas Strip-style dispensary for a variety of markets, forcing the company to articulate its brand in abstractions as opposed to a strict style guide and identikit millwork package.
But variety and novelty are a crucial part of the Planet 13 brand, and having a looser aesthetic keeps things interesting for traveling customers. "We don't want you to feel like you went to the [Orange County] store so now there's no reason for you to go to the Vegas store," said David Farris, vice president of sales and marketing.
Jushi is changing its approach to localization for a similar reason. Despite Beyond / Hello being among the most stylish dispensary chains, Neumann and his retail team—led by a new executive vice president who spent seventeen years at Anthropologie—decided to breathe new life into the brand, which Jushi acquired in 2019. The plan involves localizing some components of the interior design. "We felt we were going down a path where each of the stores looked a little too similar to one another," said Neumann. "Each new Beyond / Hello will have more character, more local flavor, all inspired by the environment of the store."
The first location to roll out the new concept will be in Palm Springs, California, where the store's design draws inspiration from the dramatic desert rock aesthetic of nearby Joshua Tree National Park.
All that being said, executing a seamless flip from a collection of legacy retail brands to a national chain is much easier on paper than in practice, particularly in a state like Florida where the law permits only one store brand per vertical license holder. This means extensive changes following mergers and acquisitions need to be accomplished extremely quickly. Trulieve recently flipped fourteen acquired locations to the Trulieve brand in thirty days. "It was crazy," Bagneschi said. "We had to rebrand very quickly and very efficiently."
Columbia Care holds more than 100 stores in its portfolio, with twenty-seven currently under the Cannabist brand. The company's long game centers on identifying the right locations to flip and in which order. In February, Columbia Care changed its downtown Brooklyn, New York, dispensary from the old Columbia Care medicinal brand to Cannabist, thereby creating what inevitably will be a flagship for the MSO and a leap-off point for its ascension in New York's coming adult-use market. According to Channon, the next stores on the list are Chicago; Morgantown, West Virginia; and Vineland, New Jersey.
Jushi's Neumann cautioned executives at other MSOs to guard against hubris when considering how to integrate new acquisitions. Corporate operators with a nationwide presence find themselves with a major public image problem when they enter a community and discard the goodwill that made the local dispensary an acquisition target in the first place.
"We learned and relearned that we cannot buy a store that has been serving a community for some years and say, 'Okay, let us show you how it works. Let's start by changing your name!' That's not going to work," he said. "A dispensary is a local business. It has nurtured relationships with its customers for years, so you cannot just come in and destroy the incredible work that has been done just so you can have your name on the building."
Does Jushi intend to rebrand all its retail stores to Beyond / Hello? "Yes, but there's no rush. This could take years," Neumann said. "The process should be collaborative with the staff. You should have buy-in from the community and really be certain the change can add value."
That raises another important question: Is rebranding necessary in most markets? Does changing a store's brand lead to a revenue gain significant enough to justify the undertaking, particularly at a time when capital remains relatively expensive and territory prospecting is still underway?
Ayr Chief Executive Officer Jon Sandelman doesn't think so. "We grew through acquisitions and had very limited access to capital," said the thirty-year veteran of banking and finance. "I had to make an asset allocation choice: Do I buy stores in various states and immediately change the name and redesign the whole place, spending my limited capital that way? Or save that capital and buy into more states with the idea that eventually I'll come back and rebrand all under a single name? We chose the latter."
Jushi's "if it ain't broke, don't fix it" (at least right away) mantra holds strong if the store was acquired because of stellar performance. But assets aren't always acquired because they are performing well. For instance, if a dispensary's location is opportune but the shop isn't operating at full potential, does it then make sense to wipe the slate clean with a new brand as soon as possible?
Not necessarily, according to Sandleman. He cautioned that even when buying a distressed or underperforming dispensansary, flipping it to the parent company's brand before addressing the underlying issues could render the rebrand meaningless.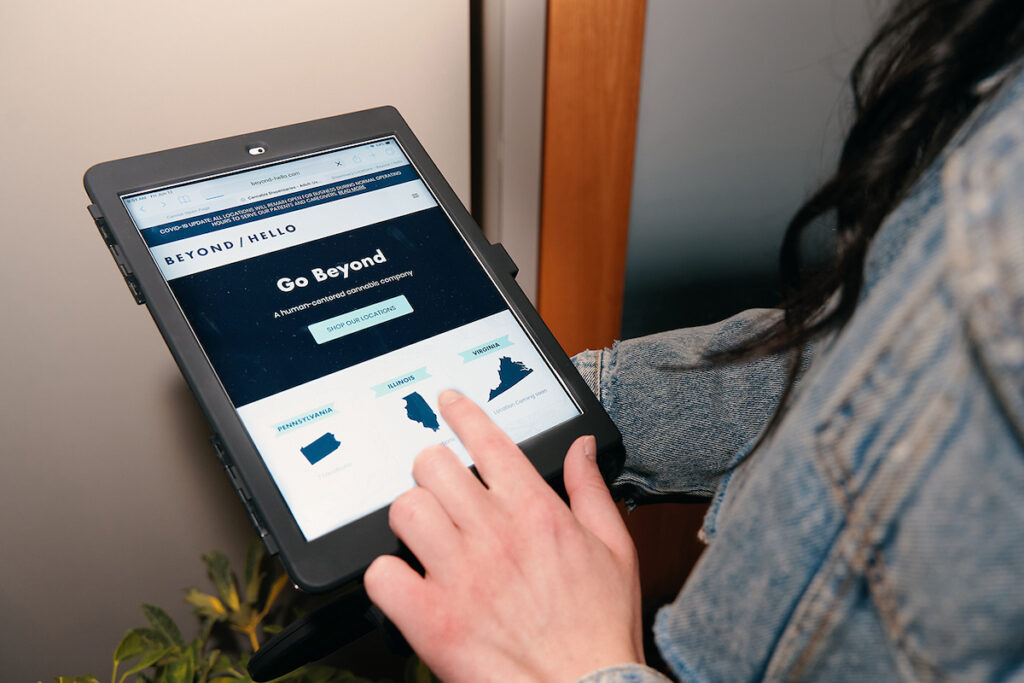 Emerging trends
Jushi's Tyngsborough, Massachusetts, location sits on the border of Massachusetts and New Hampshire and is the top-performing property across the company's entire footprint. Curiously, the operation is a "100-percent digital store," Neumann said. Originally intended to be similar to the rest of the brick-and-mortar properties in the company's portfolio, pandemic restrictions pushed Jushi to "train" customers to order online and pick up curbside, a shift that played out across the entire economy during the health crisis.
"We weren't able to operate the store in the typical fashion, so we had to reconfigure the whole workflow and how our staff operated in the space," said Neumann. "Tyngsborough is a really well-oiled machine and a great example of the efficiency we are getting from our stores when we increase our focus on digital and try to remove friction from the ordering process."
Airfield Supply Co., among California's top-performing single-location operations, also believes in reducing friction. According to Chief Marketing Officer Chris Lane, the team is obsessive about improving the customer journey and exploring every potential marginal gain in every nook and cranny of the store.
Recently, Airfield added an express-ordering kiosk in the lobby, intended to better serve experienced customers who want maximum efficiency. That aspect of shopping is something of a priority for the store's tech-savvy Silicon Valley customer base, Lane said. "There's a menu on the kiosk where they can place their order and pay for it right there using the integrated payment system," he explained. "That order then gets fulfilled in the back and is in their hand within no more than two minutes."
Columbia Care's proprietary digital budtender, Forage, also represents a leap forward in efficiency and customer experience. The artificially intelligent system helps customers choose products both in store and online, feeding customer inquiries back to the parent company to inform product development and supply-chain management.
"In markets with heavily restricted supply—and there are lots of them—customers aren't always leaving the store with the best products for their specific needs," Channon said. "We needed a lightweight [artificial intelligence] tool to help us understand what they would buy if they had access to everything. Then we use that to help us source and develop the products of tomorrow."
A growing number of tech-forward dispensaries are eschewing off-the-shelf digital menus from companies like dutchie and I Heart Jane in favor of building proprietary ecommerce experiences. Airfield Supply and Sunnyside went to great lengths to create websites in their stores' images, allowing the companies to capture considerably more control of customer flow and purchase decisions.
Airfield Supply built its website using Adobe Commerce (formerly Magento). The highly customizable tool allowed developers to take the inventory categorization and sales language the company has developed over its twelve years in business and reimagine them in an online setting. For chief marketing officer Lane, this is just another example of Airfield's core commitment to being as broadly accommodating as possible. "Our goal is that no one ever feels like they have to compromise their life to shop with us and be part of our community," he said. "If you want to order online, if you want to come in and spend an hour in the store, if you want to do an express order, we need to be able to support you."
The future lies eastward
Unlike in the industry's early years, California no longer holds a monopoly on brand and product development or retail innovation. As long as dispensaries like Airfield Supply continue to prioritize improving the customer experience, California and its discerning, highly experienced consumers still have lessons to teach the rest of the country. But the digitally savvy cannabis audience on the East Coast, coupled with MSOs' rapidly expanding reach in those markets, suggests the industry's future lies east of the Mississippi.
The retail chains forming in and spreading from the East and Midwest are built for a new, post-COVID era in which discovery starts online and products can be obtained without setting foot in a store; where consumers who prefer real-world interaction are sorted into groups that are directed to consultation and recommendation or selection and speed based on experience level. Dividing customers into categories allows retailers to deliver better consumer experiences while improving margins.
Creating stores that will thrive in tomorrow's market means applying the mentality of design—arranging elements in order to best accomplish a particular purpose—to all areas of the business, not just the aesthetics.
"Design thinking is one of the key initiatives every company, not only in the cannabis industry, has to apply to their operations," said Neumann. "Design thinking is something you apply to every process and every corner of the company in order to update outdated flows and vintage systems. You have to constantly ask yourself as a company if you can make things flow better. This is what we are practicing relentlessly, both for our customer-facing entities and our internal communication and collaboration between departments."
But make no mistake: Aesthetics will remain important no matter how much technology dispensary chains introduce into the mix. New and affluent customers are drawn to beautifully designed stores that dispense with the outdated features of traditional cannabis retail (green crosses, counter service, little natural light). Open floor plans allow for customer-guided product discovery and discreet engagement between budtenders and consumers, and store-within-a-store merchandising will continue to present opportunities for education and brand marketing.
Maybe it's time for retail to undergo the same recalibration of priorities product brands have begun to embrace: "Nice packaging, but how does it work?"
[ad_2]

Source link