Dispensary Design Masters of 2022
[ad_1]

When the cannabis industry began emerging from the shackles of prohibition in 1996 after more than half a century of raids and harsh punishment, licensed dispensary operators weren't necessarily comfortable stepping out into the open. Between operators' understandable urge to keep their heads down and patients' concern about stoner stigma wreaking havoc on their personal and professional lives, dispensary designs were … let's call them inconspicuous. 
The industry has changed dramatically since then. Dispensaries no longer keep low profiles. In fact, some of the largest and most impressive figuratively shout their presence from their own rooftops. Fierce competition in the retail sector is reflected in interiors and exteriors that are bold and beautiful, displaying the kinds of design sensibility, attention to detail, and technology integration that create experiences, not just shopping opportunities.
Nowadays, cannabis dispensaries and retailers are more than just stores—they're brands. From single-location shops to multistate chains, each building embodies the physical manifestation of a company's mission and philosophy; its raison d'être.
Edificial brand faces are becoming more creative and elegant all the time thanks to architects and designers who have taken up the challenge of giving a once bedraggled industry a makeover. Many have decades of experience creating presences for giants in the retail realm. They know what resonates and how to transform esoteric principles into reality.
Allow us to introduce you to some of them.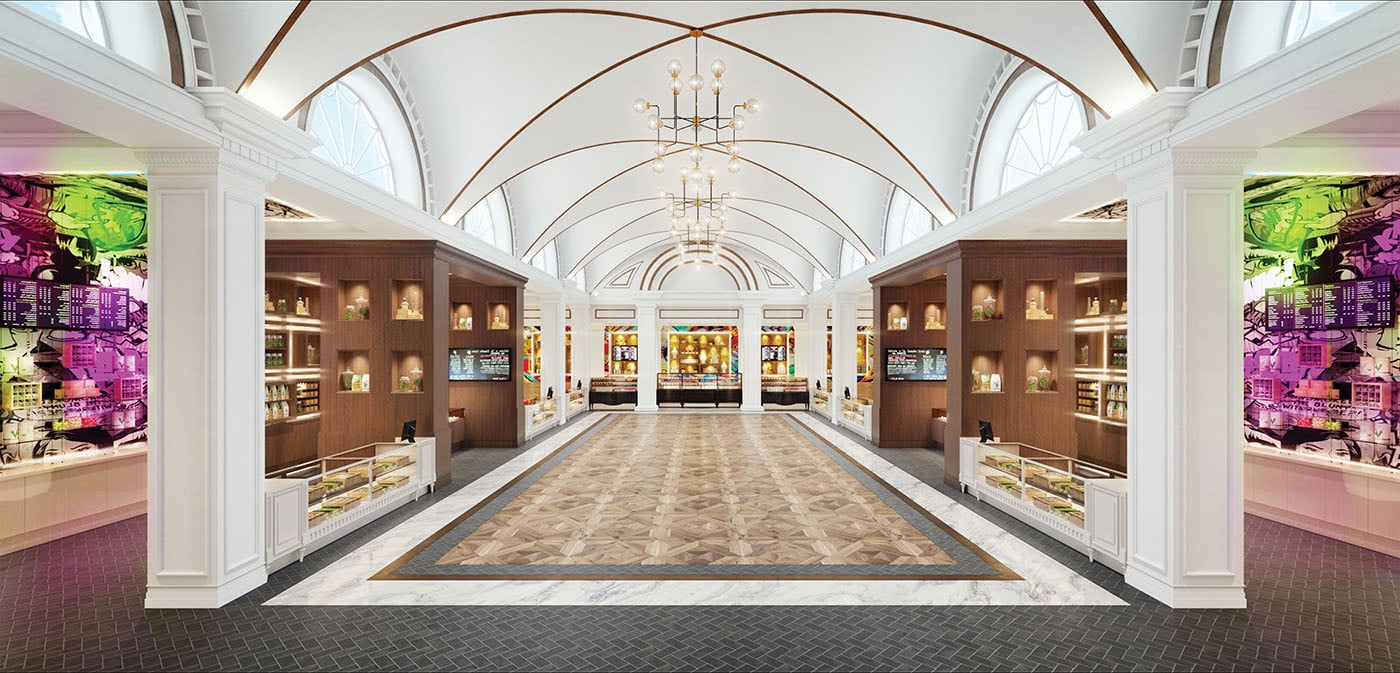 Caisson Studios
Caisson Studios founder and principal designer Alice Kuo moved the architectural firm into cannabis retail design in 2017, right after adult use was legalized in California. So far, the team has completed twenty-five cannabis-related projects, including retail stores and consumption lounges. Kuo credits their success to Caisson's ultimate priority: the perfect balance of aesthetics and functionality. "Functionality is number one when it comes to profitability," she said. "We aim to come up with the most efficient layout by understanding each brand's client sell strategy in order to create the maximum flow of circulation."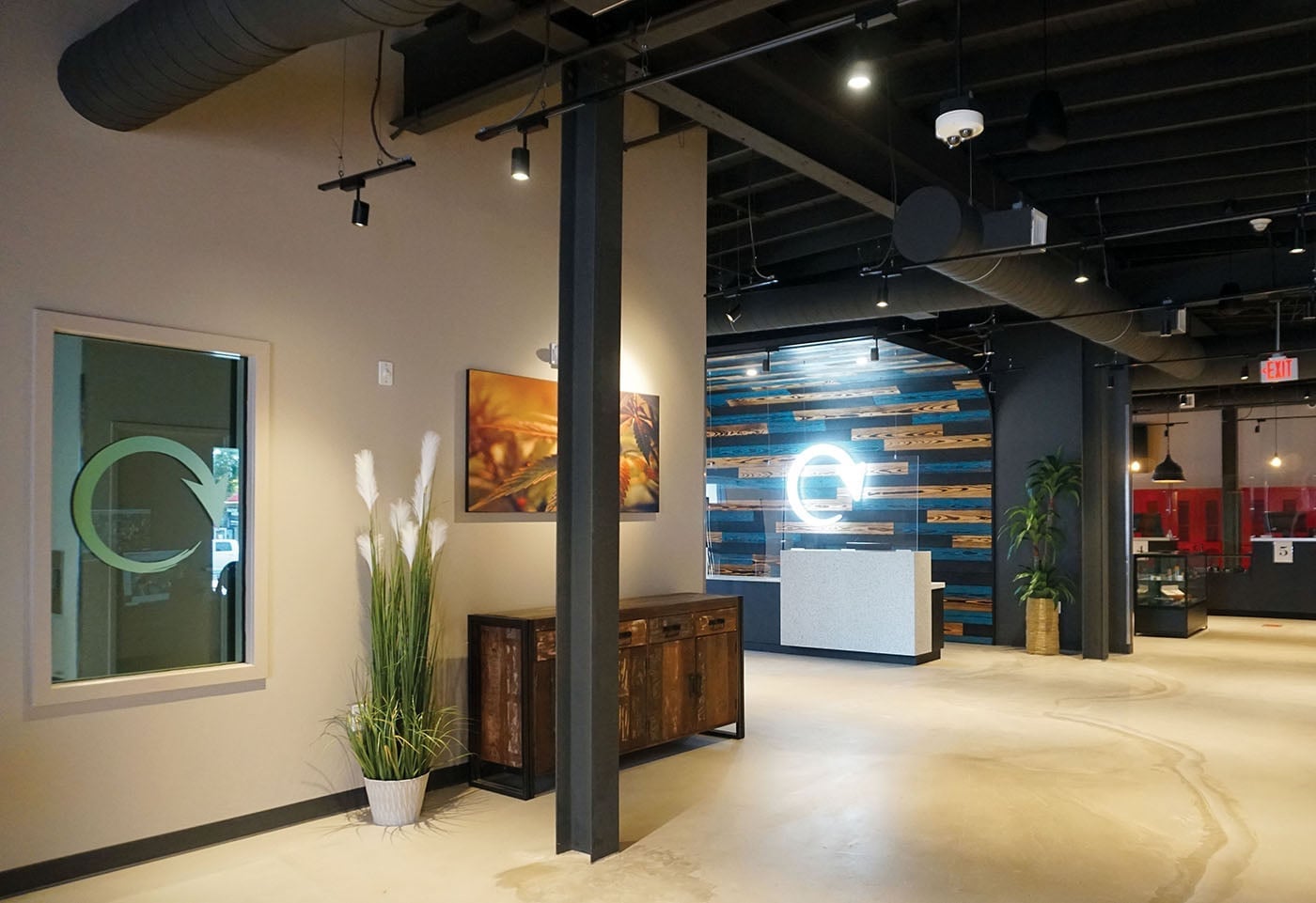 CLC Design Studio
Owner and principal Christina Casile had fourteen years of interior design experience before she entered the cannabis space. After being approached by an attorney foraying into cannabis law, CLC Design Studio became part of a consultancy group offering license application assistance and design work as a one-stop shop for new business owners. "A lot of designers go off what they want the space to look like, but I try to really get a feel for my clients, their personality, and what they're trying to accomplish," Casile said.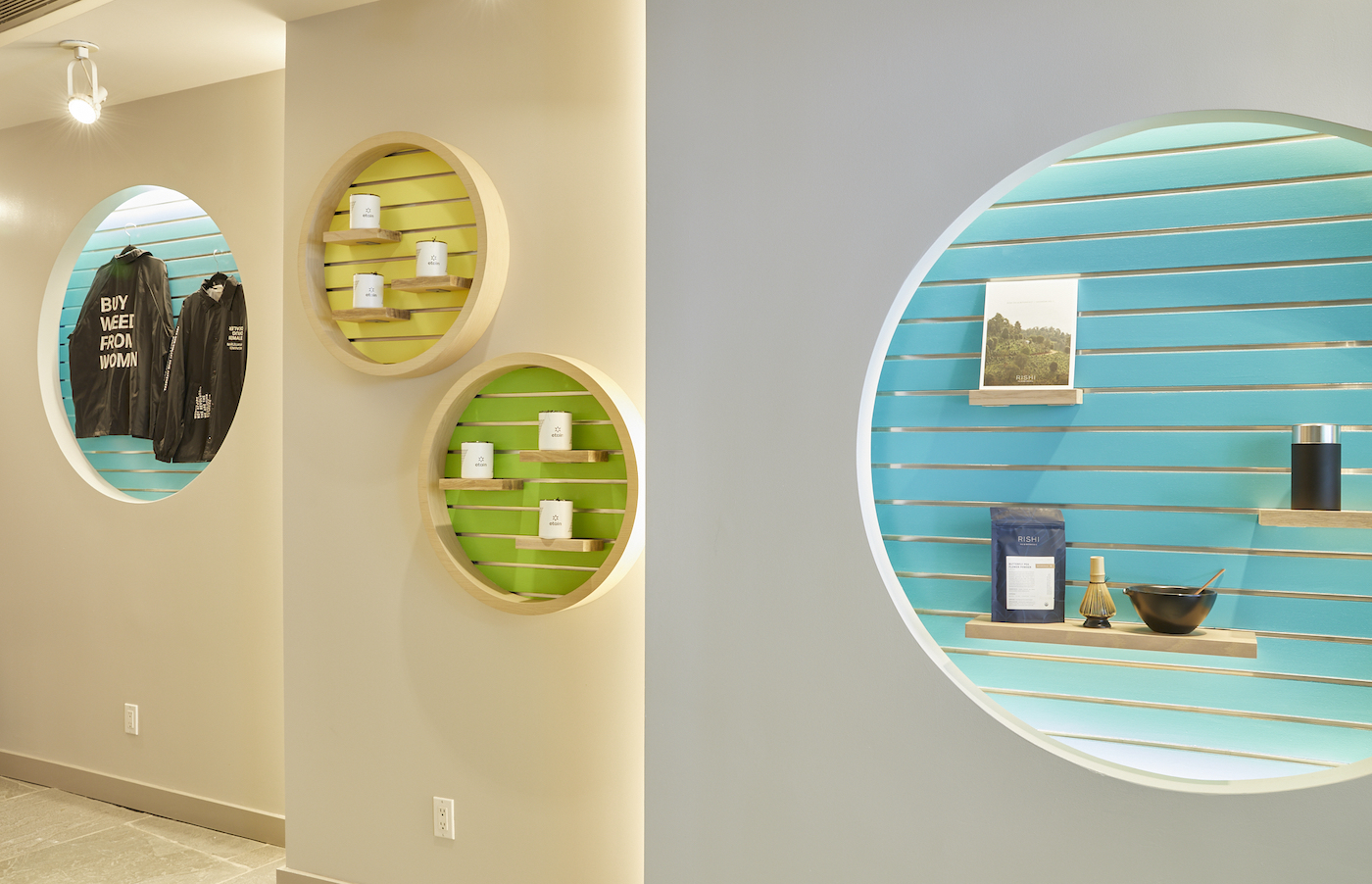 Clodagh
The mononymous Clodagh founded her self-named design company in Manhattan, where she's left a noteworthy impression on the city's medical cannabis industry. She designed women-owned medical dispensary Etain with the idea of creating a space where people feel comfortable and safe when picking up their medication. "I think the best thing a designer can do is create an experience where people feel ease of self," she said. "I brought all of the elements into the space, and all bodily senses are addressed, allowing people to forget their pain for a moment and truly relax."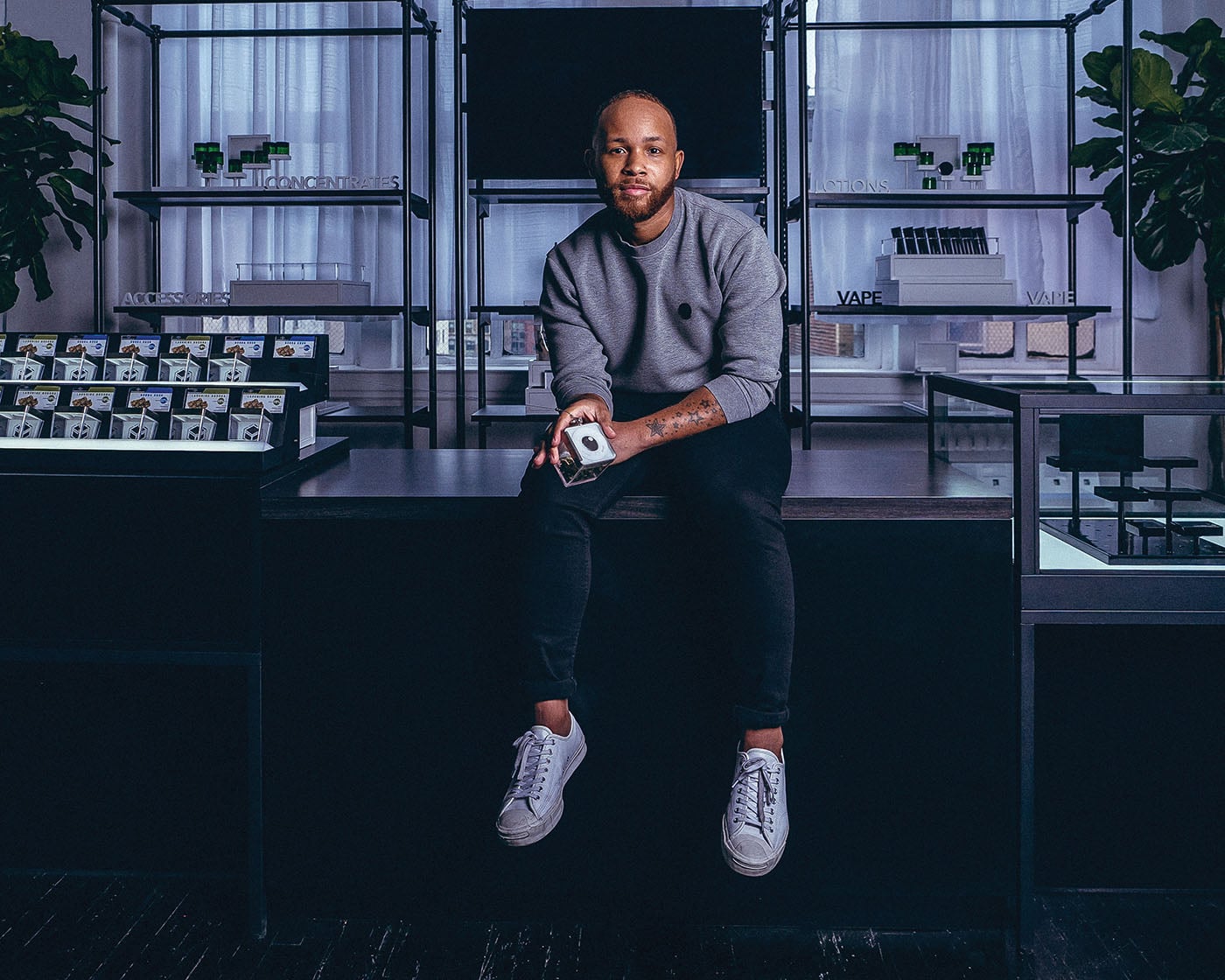 Display Dispensary
A subsidiary of Econoco Corporation, Display Dispensary is known in the industry as a one-stop shop for the "stuff that sells your stuff." The firm meets clients exactly where they are, offering flexible designs along with all the tools needed to bring the concept to life. The company's hero product is its Flower Box, which Vice President of Client Experience Wil Walker considers the mannequin of the industry. "We created the Flower Box for clients to display their most classic product: flower," he said. "It allows consumers to explore the product's look and smell while complying with the level of security a store needs."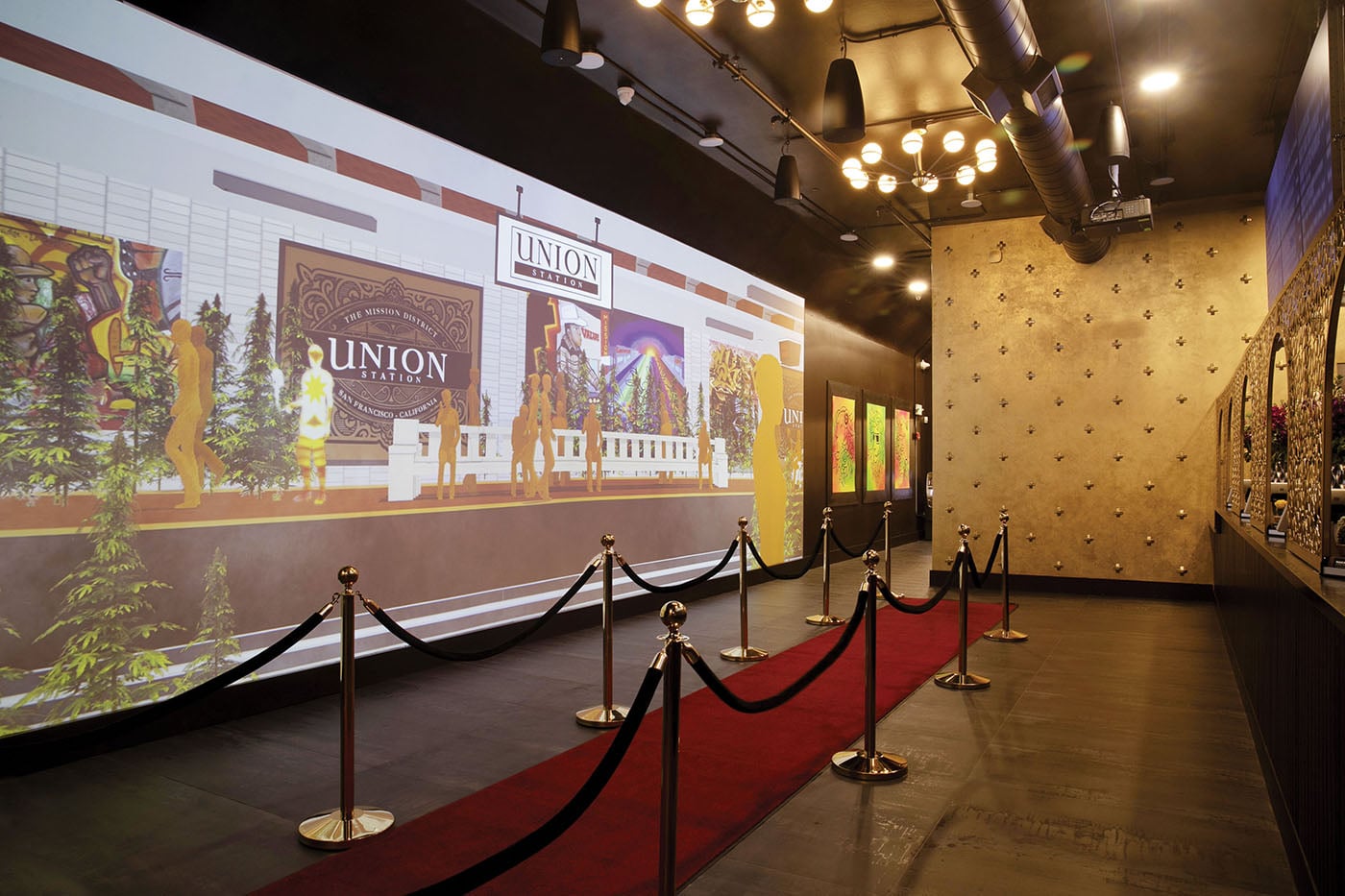 Gi Paoletti Design Lab
Gi Paoletti's first two experiences in cannabis design came by chance: one from a friend opening their first dispensary, and the second from a dentist looking to lease his office's basement to an indoor grow operation. Since then, Paoletti has come a long way from underground designs, steering into layouts that provide product transparency, creative window displays, and interactive experiences. "We're making a store pet-friendly in Los Angeles right now, designing special areas for the pets to have fun in," she said. "I see cannabis becoming more accepted, allowing us to design stores that are beautiful and comfortable to shop in."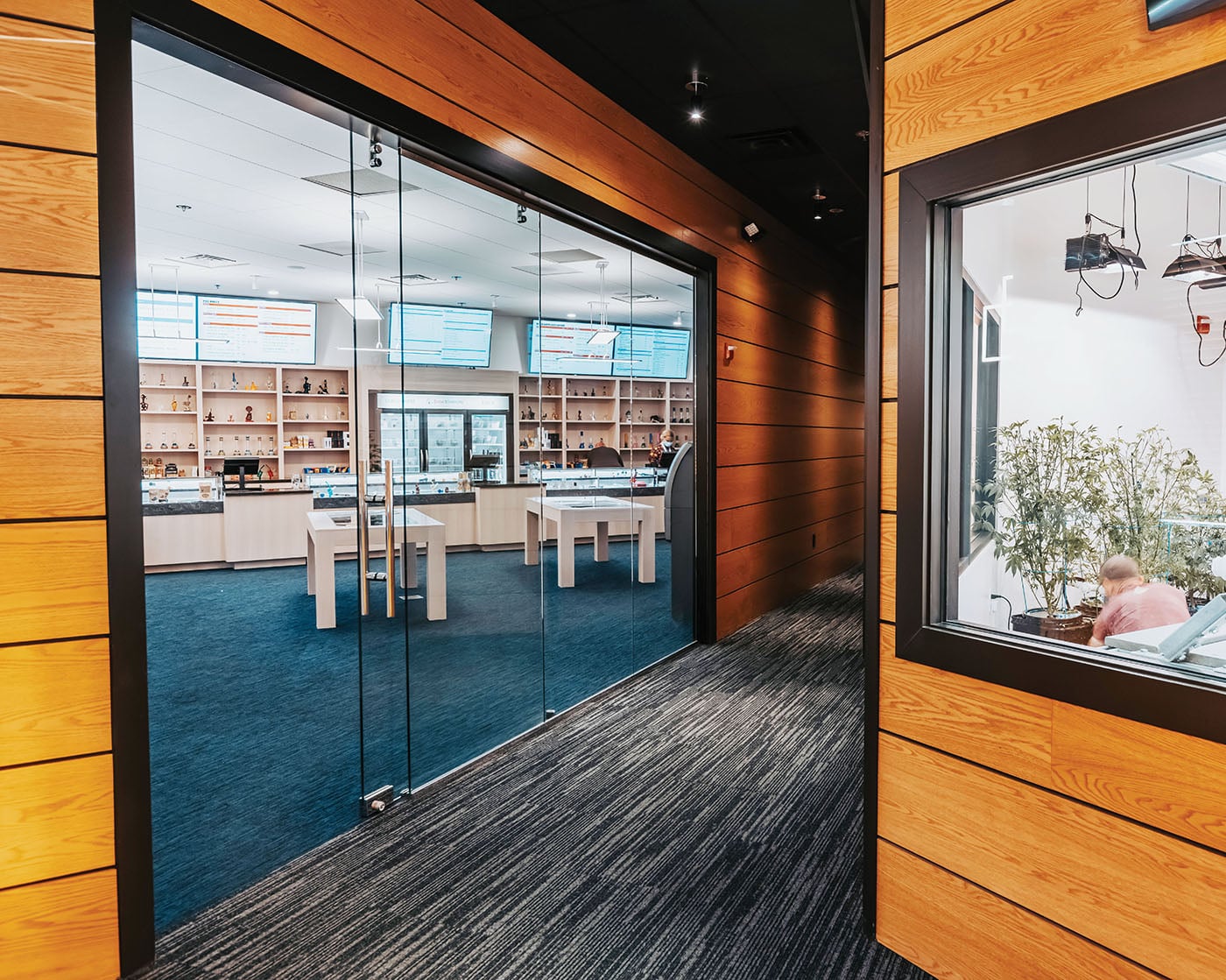 Harka Architecture
On a mission to design beautiful spaces with the lowest possible carbon footprint, Harka Architecture is leading the charge for green design in the industry. The firm's style is modern, natural, and earthy in a way that anticipates the inevitable changes the industry has yet to experience. One of the team's proudest achievements is the Good Titrations dispensary in Fairbanks, Alaska, which is one of a kind. "The dispensary is located at an old Chili's site," said Principal Architect Patrick Donaldson. "It has an onsite grow, dispensary, cafe, and edibles kitchen—the only [dispensary] in the country that has all in one space."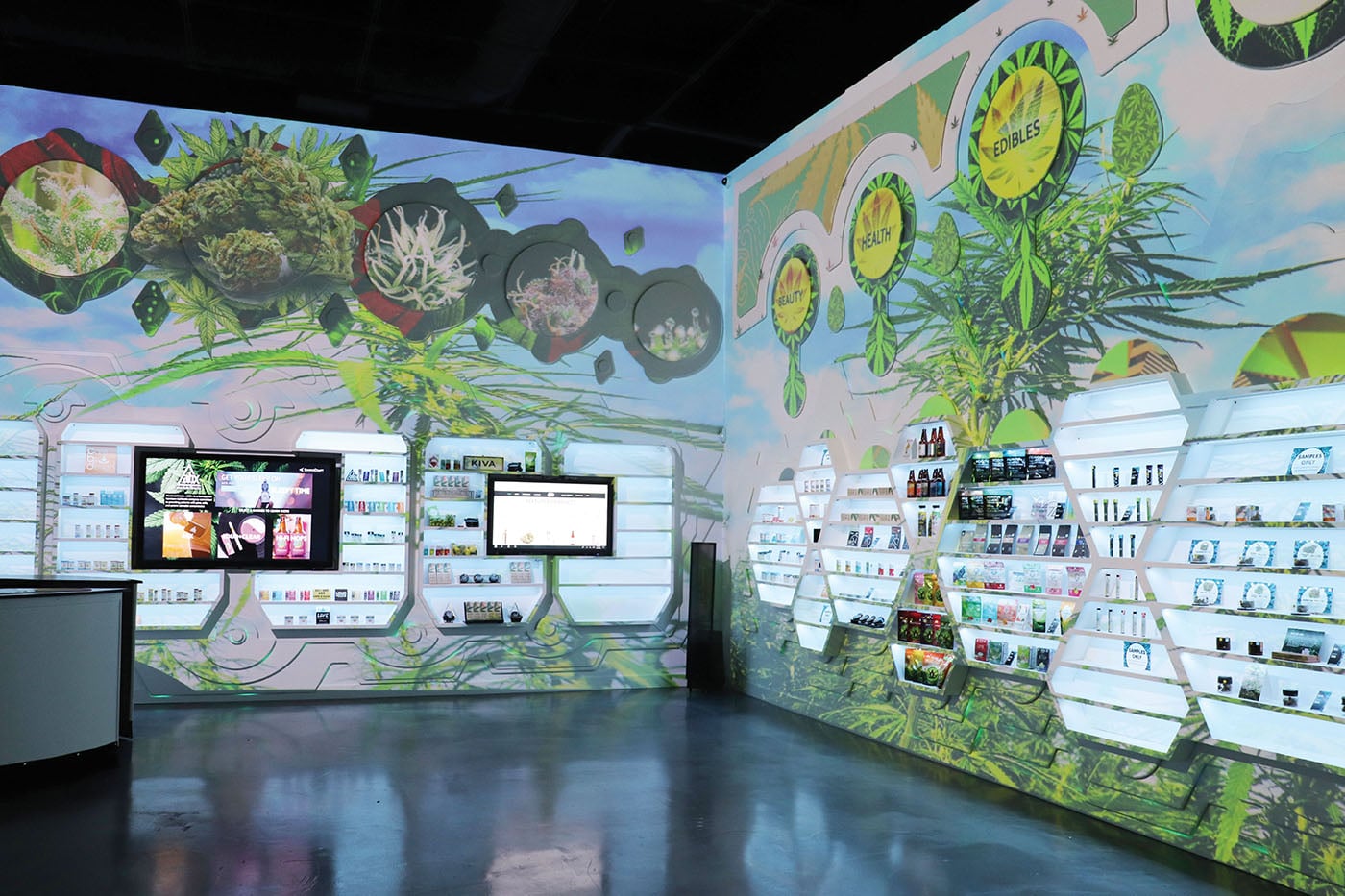 Henderson Architect Inc.
Henderson Architect got its first cannabis design opportunity with a grow facility in Santa Rosa, California. Business took off from there, allowing the company to design grow facilities and cannabis dispensaries all over the West Coast. One of the designs in which founder Jim Henderson takes the most pride is Doobie Nights, an experiential dispensary in Santa Rosa. "We created this large room with high ceilings where they project a video and play music, allowing for this really cool, immersive experience," Henderson said. "You can walk in and you're surrounded by a green field and sunshine, and then that transitions into a forest with snow falling. It makes for a really cool shopping experience."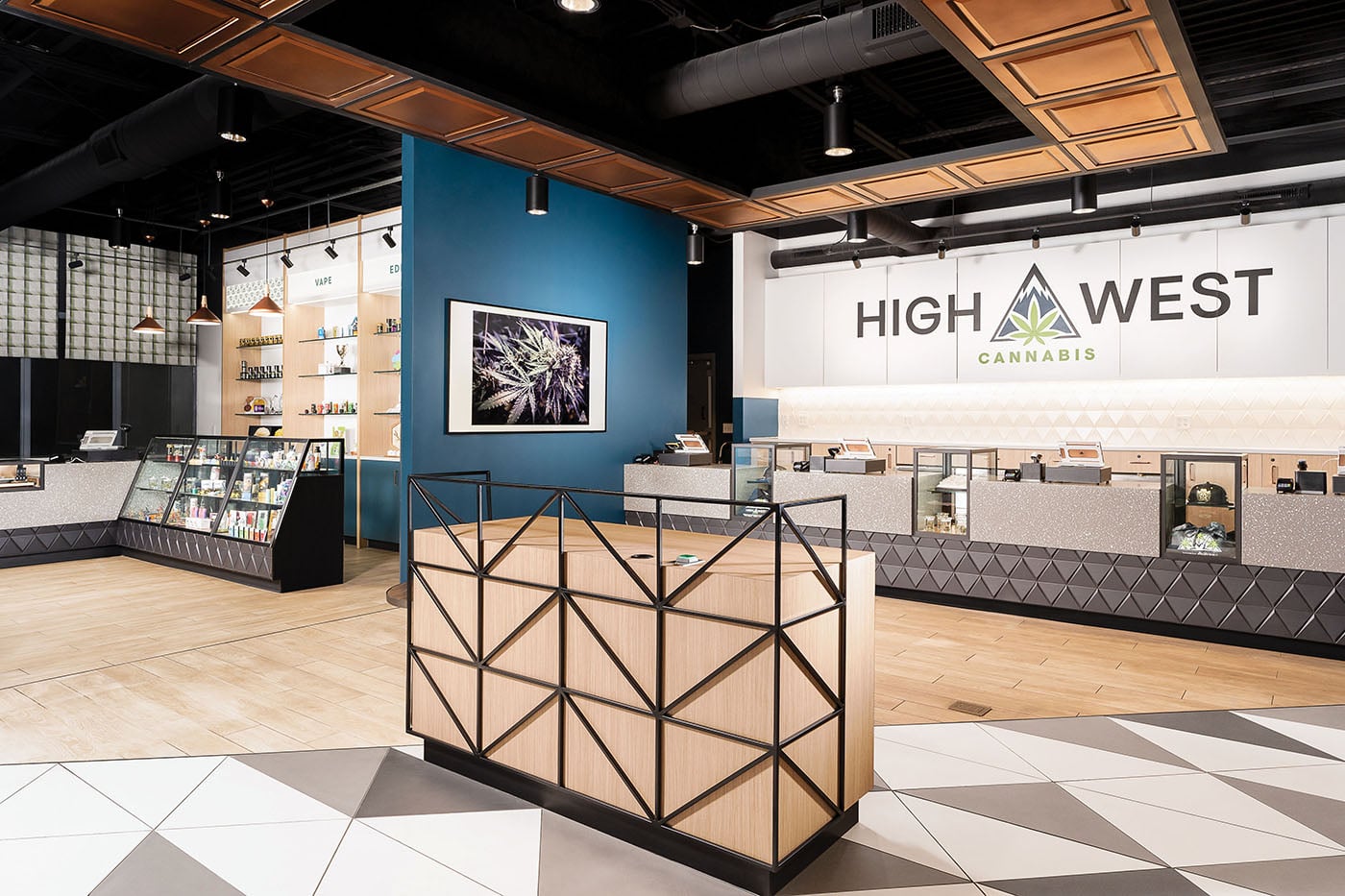 High Road Design Studio
High Road Design Studio founder and Creative Director Megan Stone attended design school while working at a local dispensary, where she discovered her passion for the niche she eventually would pursue. Stone watched the industry grow from infancy to what she considers its "teenage-approaching-college" years, and her experience makes her adaptable and forward-thinking in her design approach. "We try to bring the client's brand to life, but we also provide brand identity services," she said. "It's so essential to the process to make sure our clients have a good brand identity in place."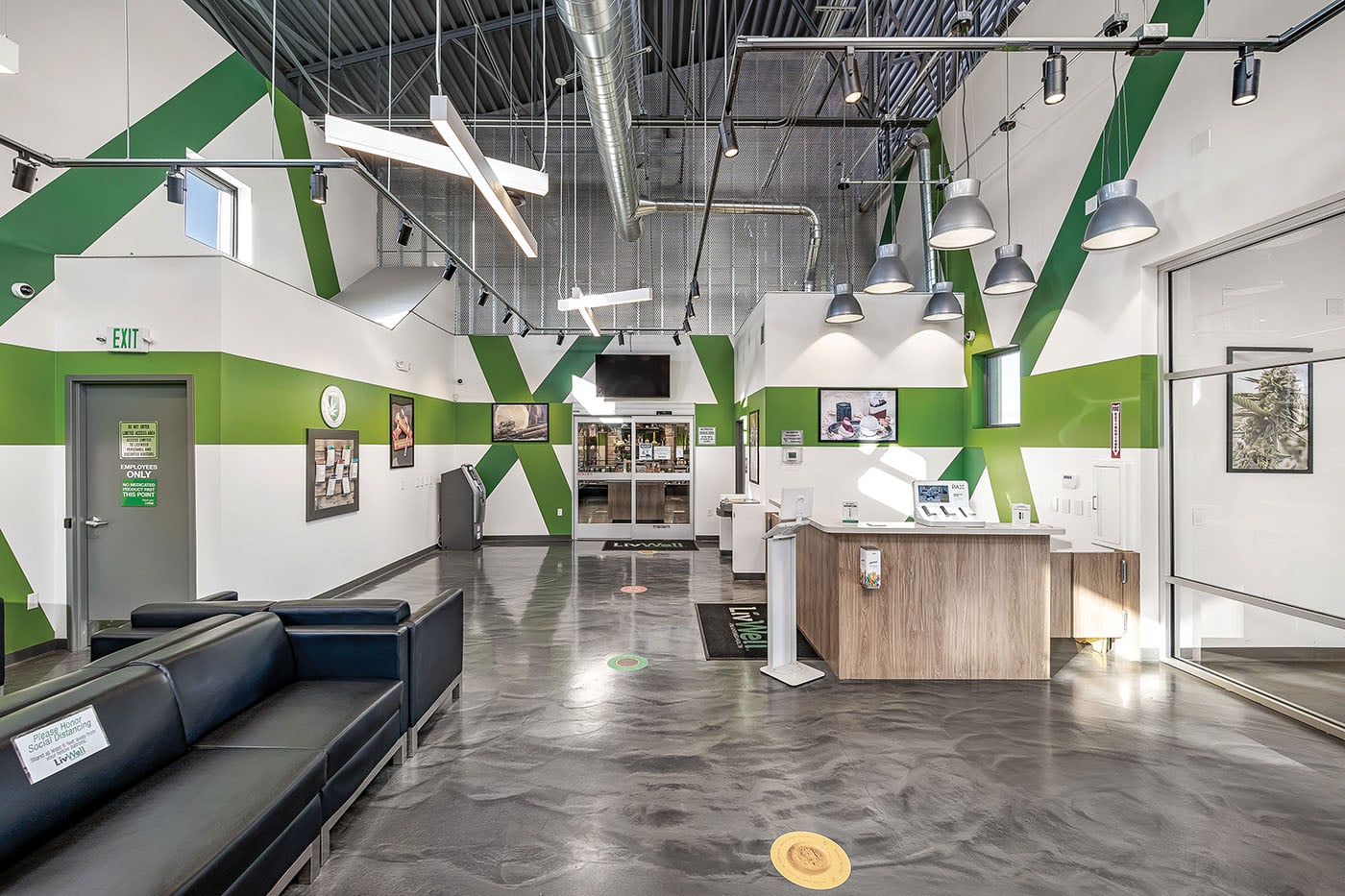 MerJ Architecture
MerJ Architecture was one of the first design companies to fold the world of cannabis into its repertoire. Founded by principals Nicole Delmage and Satto Rugg, the firm supports clients with licensing applications, architectural designs, and workflow optimizations. "I think what sets us apart is Satto and I both come from a background of health architecture, and we see the future of dispensaries being much more than a retail experience—being with the plant in nature," Delmage said. "We're already thinking about incorporating cannabis into other activities like outdoor photography or hiking and beautiful retreat spaces for a full-blown health experience."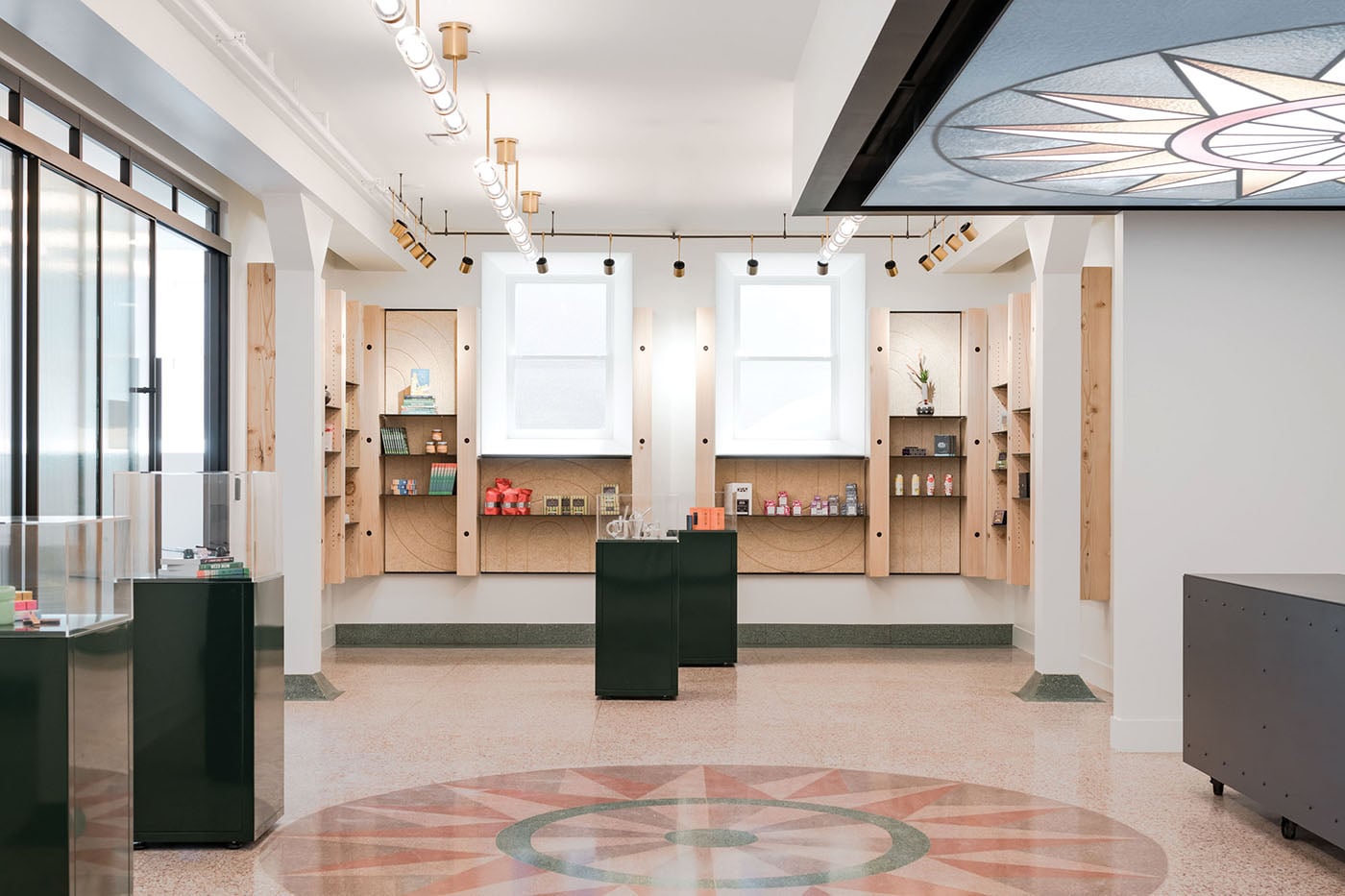 MIN+ Architecture
MIN+ Architecture is redefining the cannabis market, finding the sweet spot between luxury and approachability with a female-led team—a rarity in both architecture and cannabis. In today's market, dispensaries are looking for open and inviting environments like the one MIN+ brought to life for St. Louis's Swade Dispensaries. "We included a removable glass wall system so once cannabis is deregulated, the sales floor and check-in area can merge together easily," said principal architect Meg Holmes. "We try to provide our clients an opportunity to grow in the space they have and use it in different ways. It's on the architects to make sure those questions are asked and answered, and I think that's a big part of our success."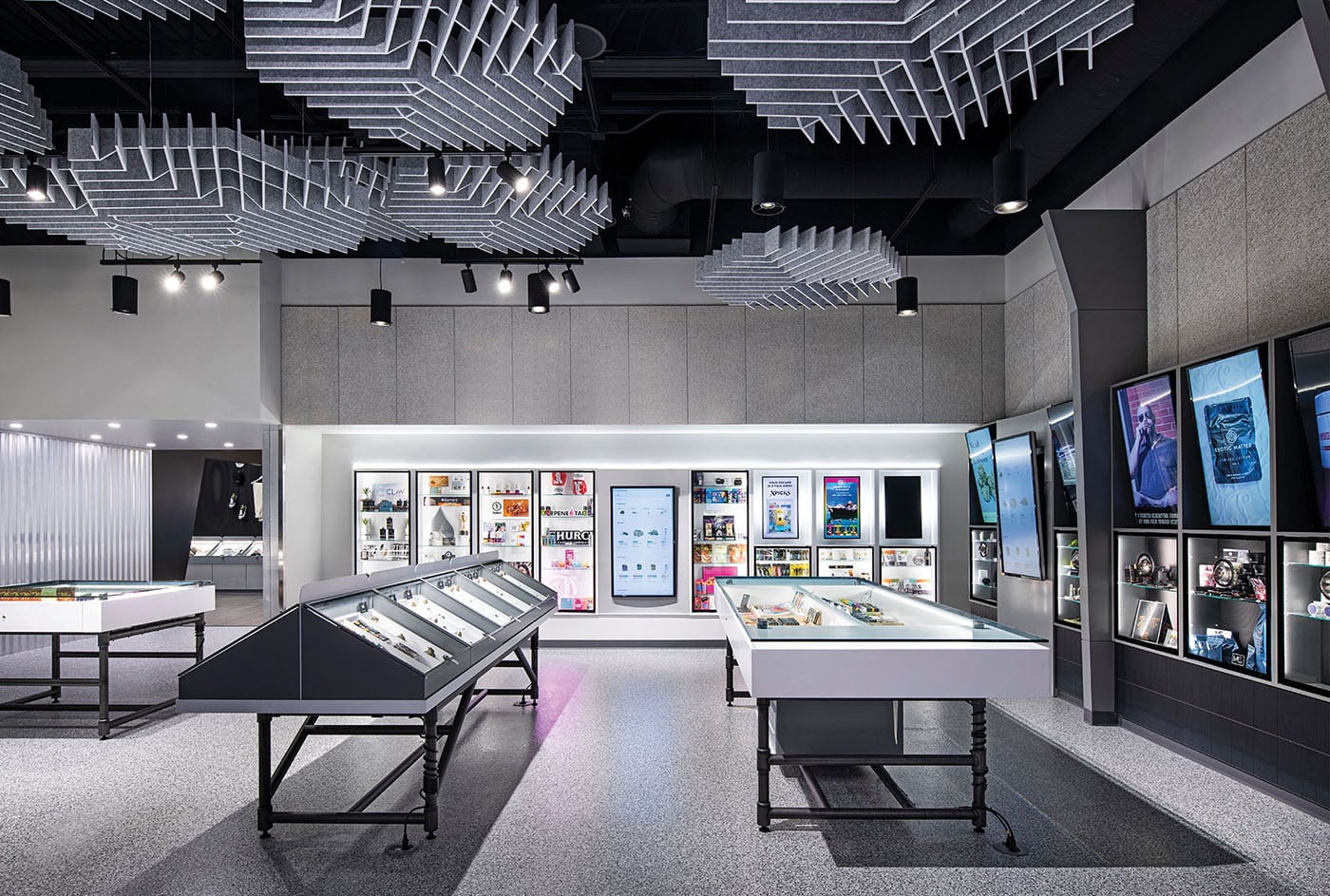 SevenPoint Interiors
A division of Visual Elements Manufacturing Inc., SevenPoint Interiors is the industry's answer to a need for custom retail interior design and fixture displays. Cofounders Robert Turk and John Simmen brought their luxury retail background to the cannabis space, creating designs that bring end-to-end solutions to their clients. "We specialize in custom solutions and product systems that cut down on production time," said Danielle Marzarella, vice president of business strategy and development. "If you're time- or budget-sensitive, we will work with you. We try to look at what the industry needs and how we can accommodate different solutions that are scalable and creative."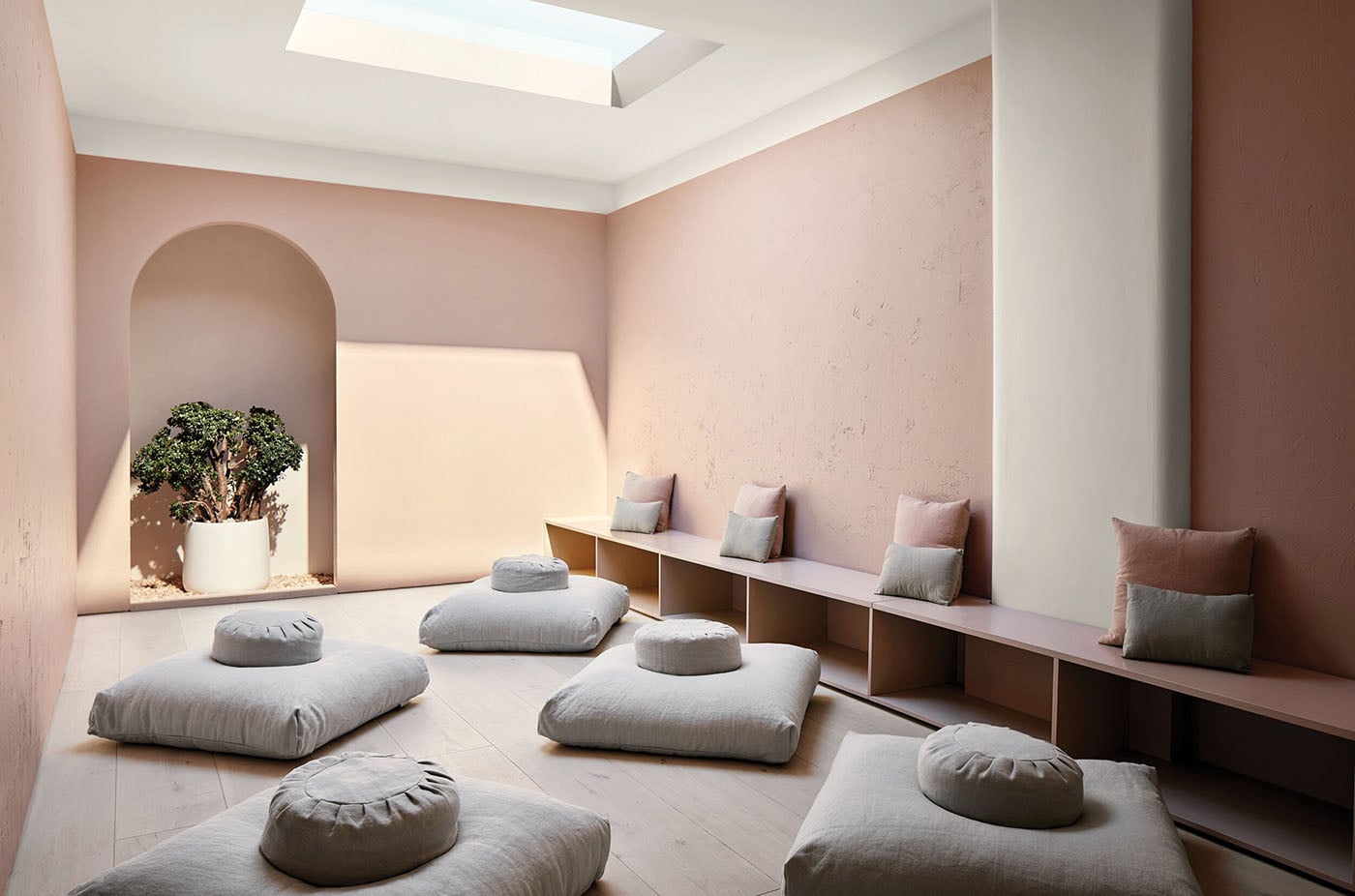 SR Projects
SR Projects worked on Standard Dose's flagship Manhattan store with TUNA Architecture, earning the firm its first props in the cannabis design space. "CBD used to be found at random delis or head shops, but now there's this whole new wellness-oriented side of it," said Sacha Roubeni, SR Projects' founder and principal. "Standard Dose's location was set around the experience: a meditation space, product bar, yoga space, and CBD spa area. In general, we go with the idea that a retail store doesn't need to look like a retail store. It can be very warm and inviting. A store can be designed more like a living space, erasing that stigma and opening it up to the public in a friendly way."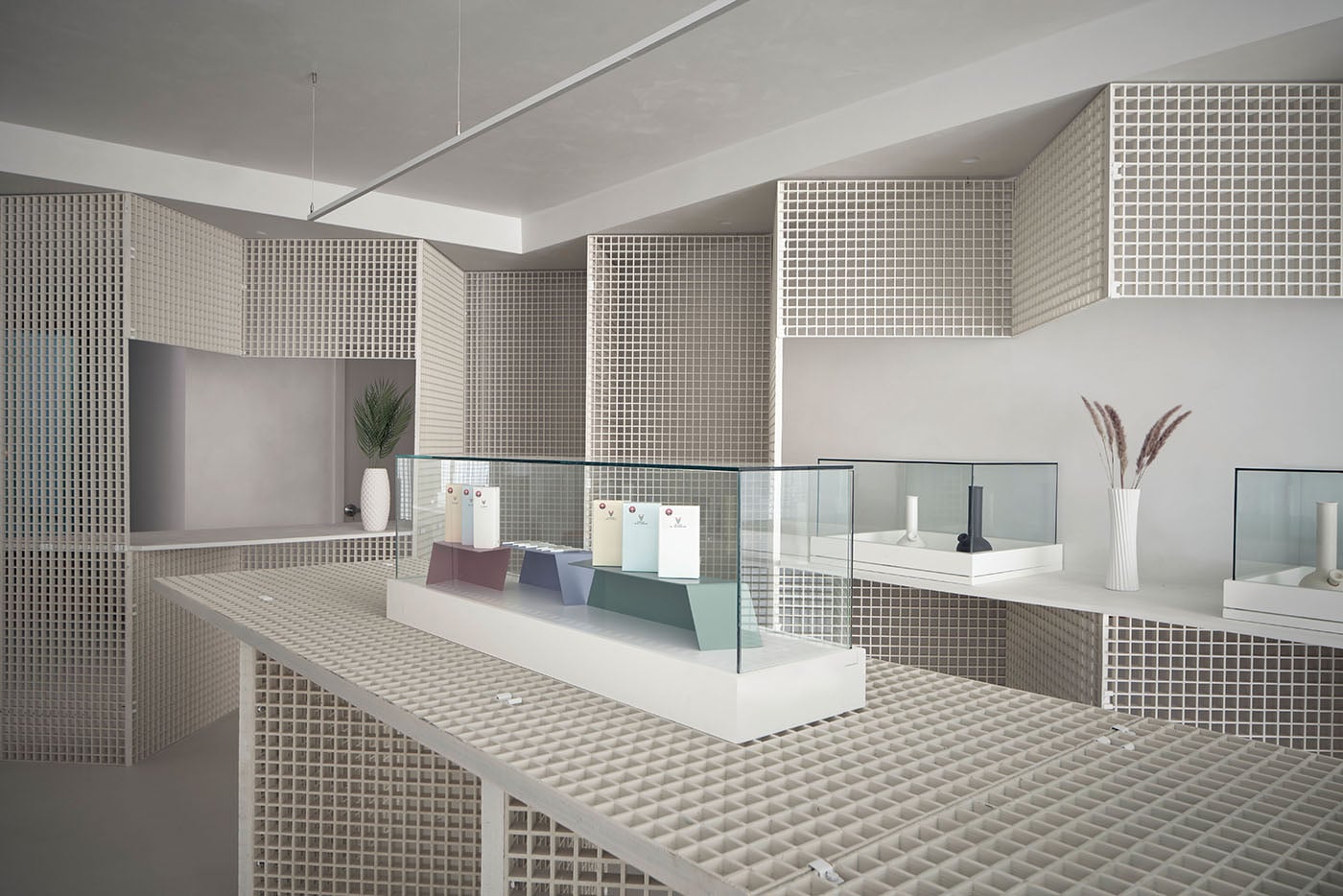 Studio A/C
Studio for Architecture & Collaboration—aka Studio A/C—is a Toronto-based firm led by Andrew Hill and Jennifer Kudlats. The team has been involved in cannabis design since 2018, when the plant was federally legalized in Canada. "We are constantly challenging how we can shape and transform the spaces we are provided," said architect intern Jonathan Miura. "We like to approach retail design as 'interior architecture' rather than 'interior design,' manipulating volumes of space, informing circulation, and affecting how these spaces are inhabited by the forms we create."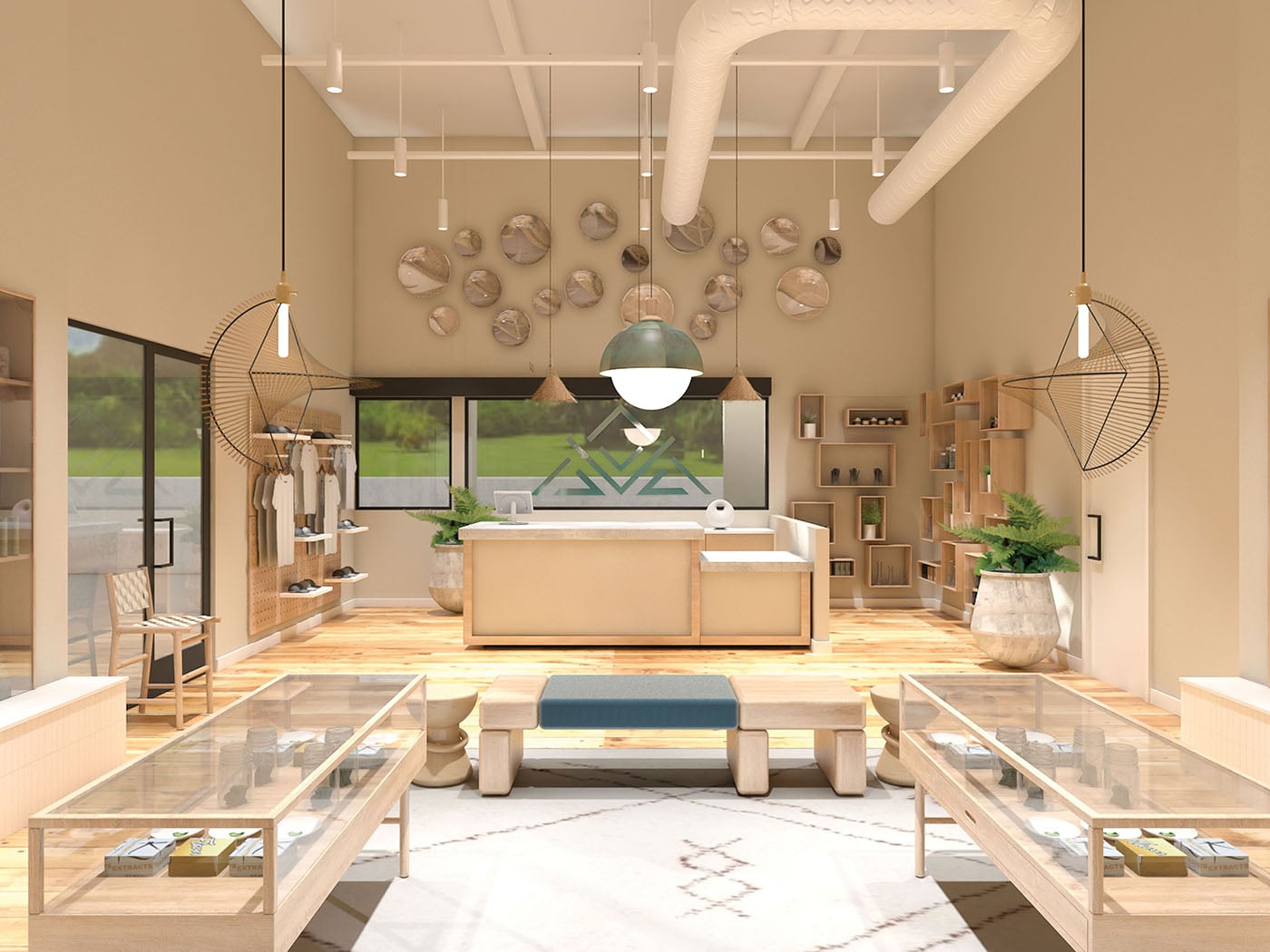 Sungrown Studio
Sungrown Studio is the only cannabis design firm with an entirely virtual approach, which founder and interior designer Melanie Coddington Mesa said saves clients time and money while also allowing them to know exactly what they signed up for ahead of the actual build. "We're very tech-savvy, and we have a lot of digital products on our website for clients to utilize, like our free budget guide or style quiz," she said. "We're also very vocal about supporting women and minority-owned businesses. I'm a queer founder, and we have a diverse group of women working for us. I love that sense of community with other people who share the vision."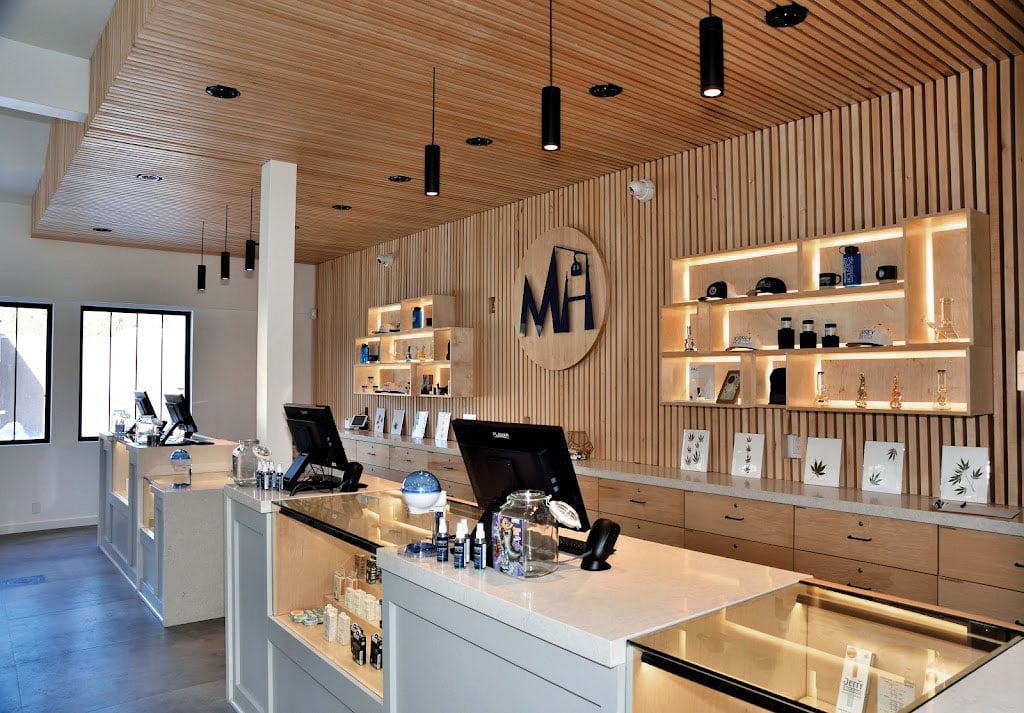 Temeka Group
Bringing vision to reality since 1991, Temeka Group is one of the leading architectural firms in the cannabis space today. The firm has a strong thirty-year background building retail and jewelry stores, and the team easily applied that experience to the cannabis industry. "With jewelry, you have to be able to display your product while keeping it secure," said Vice President of Sales Chris Isley. "Cannabis is so similar. Each municipality has different regulations you have to follow in your layout, but that basic concept of displaying a product while securing it is pretty uniform."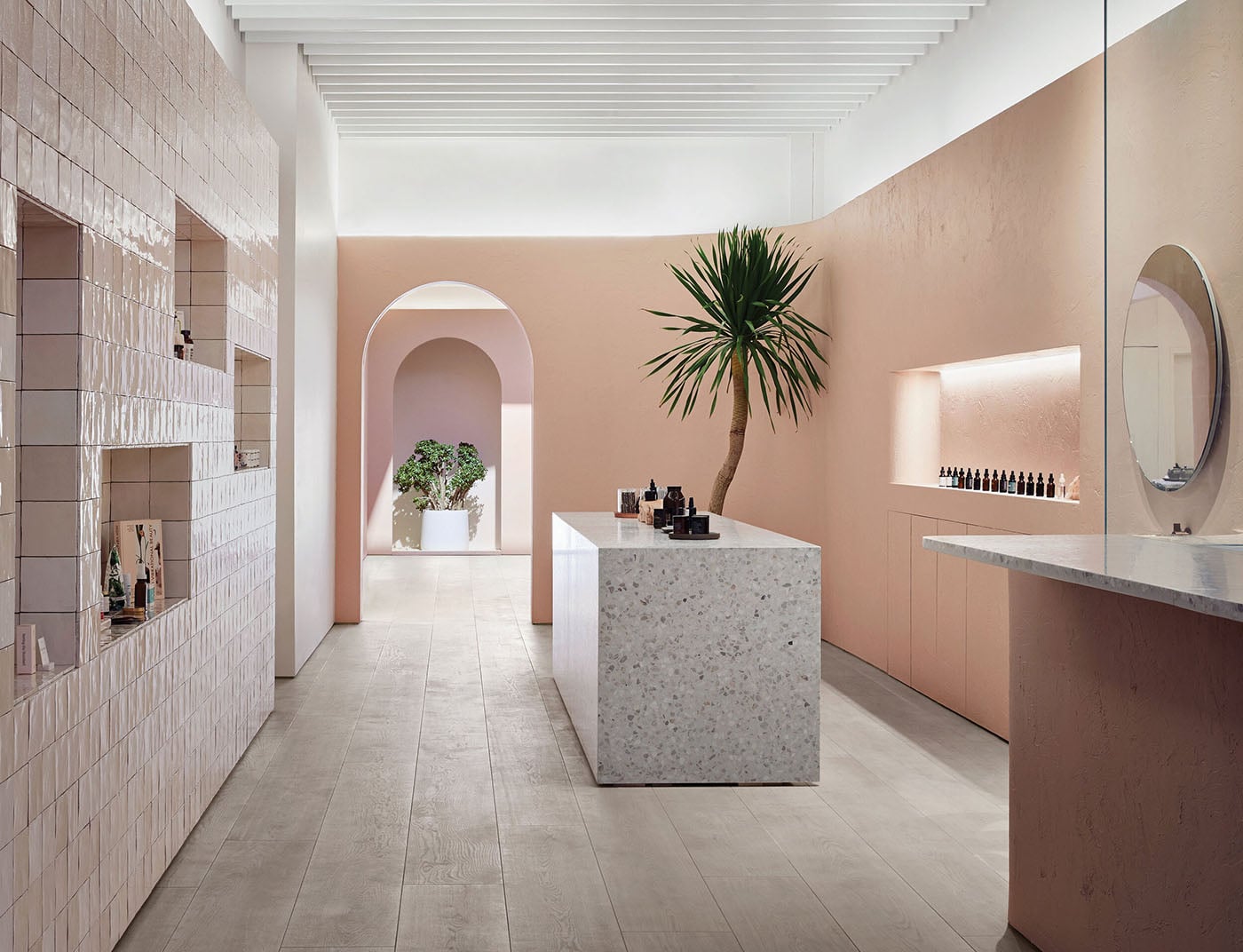 TUNA Architecture
TUNA Architecture came to life thanks to New York-based CBD brand Standard Dose. A colleague brought Chistopher Gardner, the firm's principal architect, into the project, and by the time Standard Dose opened its doors on Broadway, TUNA was born. Gardner opts for a unique form of collaboration on each and every project, aiming for the perfect holistic retail experience. "I've started researching psychedelic therapy spaces and what those could look like," he said. "With cannabis becoming more decriminalized and accepted, I think we'll see something similar in the therapeutic psychedelics community."
---
The Industry's Most Stylish Dispensary Designs Photo Gallery 2022
[ad_2]

Source link