Hemp, the New Patch? – Hemp Cigarettes Help People Quit Tobacco Says Medical Study
[ad_1]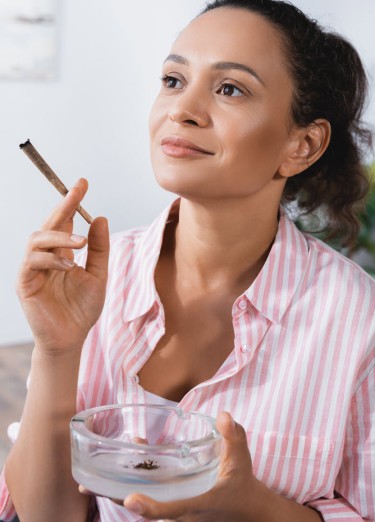 Despite the risks of cigarette smoking being so well-known, it's surprising to see that so many people are still smoking these nasty sticks.
According to the CDC, almost 13 in every 100 adults in the United States are current cigarette smokers, which translates to some 30.8 million adults. The illnesses associated with cigarette smoking are all preventable, most especially lung cancer. Tobacco smoking kills 8 million people each year, so why aren't more people quitting cigarettes?
Well, to be blunt, quitting cigarettes is by no means easy. It contains nicotine, an extremely addictive substance which makes tossing cigarettes out much easier said than done. In fact, many people compare the difficulty quitting cigarettes as the same to an addiction to heroin or cocaine. On top of that, when you do get to quit, the withdrawal symptoms are hellish at best: from headaches to mood swings, irritability, high blood pressure, difficulty sleeping, and extreme urges to smoke, everything about cigarettes is just so difficult to stop.
But are hemp CBD cigarettes the answer?
What Are Hemp Cigarettes?
Hemp cigarettes are just like your regular cigarette, except that it doesn't contain any nicotine nor tobacco. Instead, it's made with high CBD strains or industrial hemp. Hemp that is made from the cannabis sativa plant with less than 0.3% THC is legal in the United States, which makes them easy to obtain and it won't get you high.
CBD or hemp cigarettes are excellent for quitting tobacco because they give you a nicotine-free alternative which will make you feel like you're smoking a regular cigarette. It also helps to address the oral fixation that accompanies cigarette smoking. But more than simply the oral fixation, there have been numerous studies documenting the success of CBD in treating nicotine addictions among cigarette smokers.
Many find that smoking hemp cigarettes is a fantastic cessation tool – maybe even the best there is out there. In a 2015 study, 24 cigarette smokers were asked to take CBD via inhalation whenever they felt the urge to smoke while a group was given placebo. This went on for one week, after which the researchers found that the people who consumed CBD ended up consuming around 40% less tobacco cigarettes. Given the low success rate of other cessation tools, this was great news after just one week. Meanwhile, those who were given placebo didn't have any difference in the quantity of cigarettes smoked. Because of this, the study's authors suggest that CBD is a good candidate for treating nicotine addiction, and is worth a further investigation.
Then in 2020, a 700-person study revealed that 42% of subjects were successful in abstaining from cigarettes when they used CBD. Furthermore, they found that both long and short-term CBD use was effective in stopping especially for those aged 25 to 35. "CBD it seems is 1.2 more effective on young adults than their older counterparts. While around 47% of the participants, aged between 25 and 35, readily abstained from smoking after using CBD for a month," writes Dr. Ivan Green.
CBD Cuts Cigarette Cues & Addictive Behaviors
One of the hardest parts about quitting cigarettes is the cigarette cues, which are things you find around you that stimulate the trigger to smoke. This can be the urge to smoke a cigarette whenever you normally would, such as first thing in the morning, after a meal, or when you see someone smoking.
In a 2018 study, consuming CBD orally may be successful for helping cigarette smokers experience less triggers since it neutralizes the response to the cues. The study involved 30 tobacco smokers, who were then told that they shouldn't smoke for 12 hours. They were then given one dose of 800mg CBD oil, while others were given a placebo. After 12 hours, the researchers found that cigarette cues were reduced among those who took the CBD oils. They also had reduced systolic blood pressure.
CBD is also well-known for its relaxing properties, which are effective in treating the anxiety that comes with quitting cigarettes. As it can help calm you down, reaching for a puff is healthier than ever and you can use as much as you need in order to get off the tobacco.
Quit Smoking Today with Hemp CBD Cigarettes
If you're open to giving it a try, you might be surprised how powerfully effective hemp CBD cigarettes are in quitting tobacco.
This solution might not be what everyone wants or needs, but if the oral fixation and addictive cues is what you struggle with when it comes to quitting, this might help. Hemp cigarettes not only provide you with an authentic cigarette experience, but they are also already rolled for you professionally. They are a natural source of CBD and all its therapeutic properties, plus it isn't harmful nor addictive.
There are dozens of different hemp cigarettes in the market to choose from. Most of them will likely be made with industrial hemp, but don't expect the delicious dank smell that marijuana is known for. Before you buy a pack, look for a Certificate of Analysis (COA) from the manufacturer so that you know exactly what goes into each cigarette. Read reviews online, do your research on the ingredients based on the COA report, and buy from reputable brands. There are varying potencies and purities out there, as well as an array of flavors and brands that you may enjoy.
On top of being able to quit smoking cigarettes, hemp cigarettes can also improve your overall mood, sleep, focus, and suppress your cravings.
There's no reason you shouldn't try hemp cigarettes today to kick the nasty habit once and for all.
NEED TO QUIT TOBACCO, READ MORE…
HOW CANNABIS USERS ARE QUITTING THEIR TOBACCO HABITS!
OR..
HOW TO USE CBD FROM HEMP TO HELP YOU QUIT SMOKING CIGARETTES!
[ad_2]

Source link