Is There Hope for the Philippines to Legalize Marijuana Now That Anti-Drug Zealot President Duterte is Out?
[ad_1]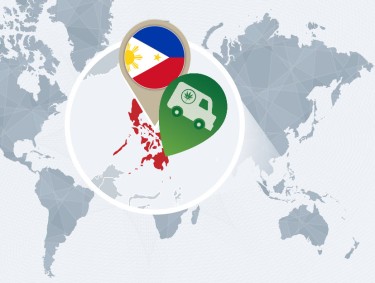 With President Duterte, King Of The Philippines' Deadly War On Drugs Finally Out Of Office, Is There Hope For Legalizing Marijuana?
June 30th, 2016 was the beginning of some of the Philippines' darkest days.

That was the day that Rodrigo Roa Duterte, former president of the Philippines, assumed office. While he was known for his numerous political accomplishments serving 7 terms as the mayor of Davao, he was also notorious for his hatred towards drugs.
And since the day he assumed office as president of the Philippines, thousands of unjust deaths supposedly related to the war on drugs took place around the country. It was a dark, bloody time: it's believed that more than 12,000 Filipinos died because of the war though some 2,500 of these deaths were linked to the local police authorities. Regardless, this campaign unleashed a war that should not have taken lives at all.
According to Duterte, illegal drugs were the biggest hindrance to the survival of the country, preventing it from succeeding as a nation. In his eyes, people who used illegal drugs as well as those who pushed and sold them were free game – they could be killed by anyone even in broad daylight, without due process being served. Of course it caught the attention of human rights watchers globally, but he showed no remorse. People who used drugs, sold them, or even those without proof of doing so could be killed. It was a killing spree.
Under Duterte's term, there was no way in hell that any bill trying to legalize medical marijuana would progress – even if his own ex-wife supposedly was using it to help cope with breast cancer. However, progressive lawmakers have been fighting to legalize medical marijuana in the Philippines since 2014. They were trying to get a bill into Congress though there has been very little progress made especially when Duterte assumed the presidency.
But something surprising happened in 2017: President Duterte's spokesman said that he would be open to bills legalizing medical marijuana, which led to the third reading of House Bill No. 6517, also known as the Philippine Compassionate Medical Cannabis Act. But there always seems to be roadblocks…. In 2019, the bill was blocked by the Senate when it seemed as if Duterte had a change of heart saying that he will not allow medical marijuana to be legalized in his time.
Yes, he tends to eat his words a lot.
Thankfully, his term has just ended and the Philippines now has a new president in place: Ferdinand Marcos, Jr.
Marcos: Next In Line
Ferdinand Marcos, Jr. also known as Bong Bong Marcos, is by no means a lesser evil: the Filipino people elected the son of former dictator Ferdinand Marcos, notorious for his iron rule in the country from 1965 to 1986, and placing the Philippines under martial law, which many recall as the dark ages. For fourteen years, the Marcos administration was able to get away with numerous human rights abuses especially against journalists who tried to speak up against the Marcos government.
And now, his son is in power.
But when it comes to legalizing marijuana, he might just be the president we needed.
There are rumors circulating that he does have sort of an open and liberal attitude when it comes to drug use. We won't know that for sure because there is no evidence whatsoever at the moment, but if it is true then it could be good news.
In addition, a Filipino actor named Robin Padilla, whose political name is Senator Robinhood Padilla, was also voted into power during the last elections. A man with hardly any political background, but could this Robinhood be the man to finally help the Philippines progress with legal medical marijuana?
Sen. Padilla has been pushing for its legalization in recent weeks by filing Senate Bill 230, which would encourage research on the uses of medical cannabis, provide training for medical professionals on its use, and help people who need it, reports The Philippine Star. "The State should, by way of exception, allow the use of cannabis for compassionate purposes to promote the health and well-being of citizens proven to be in dire need of such while at the same time providing the strictest regulations to ensure that abuses for casual use or profiteering would be avoided," said Padilla in the bill.
Furthermore, the bill states that medical marijuana, including products such as oil and capsules but not raw cannabis, can be given for "debilitating medical conditions of qualified patients." According to the bill, these conditions are to include cancer, HIV/AIDS, sleep disorders, nausea, epilepsy, migraines, and other conditions that the Department of Health identifies.
These are only baby steps, but they are important.
Currently, it remains fairly simple for people to illegally source marijuana products through the black market in the Philippines. There are also a few non-government organizations and private entities that supply underground cannabis oil to those who are in need.
However, legalization is still an important step forward because decriminalizing it would remove the penalties associated with its use especially for those who are sick and need it for themselves of their children. Legalization will also ensure fair pricing of pharmaceutical-grade cannabis that patients can make use of, and so that patients can have a steady supply of the medicine that they need.
Hopefully, this administration will be the one to propel the Philippines forward and allow the country to perhaps be next in Asia after Thailand to legalize marijuana.
PHILIPPINES GOING FORWARD WITH MMJ, READ MORE…
[ad_2]

Source link