With Over 4,200 Cannabis Licenses Issued So Far, Oklahoma Will Now Try and Approve Recreational Marijuana
[ad_1]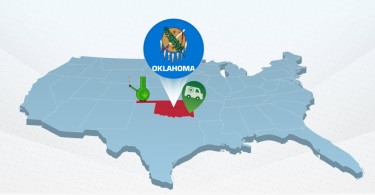 Oklahoma Activists Submit Signatures for Recreational Pot Legalization Initiative
Cannabis activists in Oklahoma have achieved a significant feat in their attempt to legalize recreational cannabis in the state. This week, activists have submitted more than 160,000 signatures on petitions qualifying recreational cannabis legalization ballot initiatives for the 2022 general election.
The signatures for State Question 820 were submitted by the Oklahomans for Sensible Marijuana Laws to the state Capitol. The submission was made on Tuesday, 5th of July 2002, close to a month before the November ballot qualification deadline.
If enacted, State Question 820 would legalize recreational cannabis use for individuals aged 21 years and older. The Oklahoma Medical Marijuana Authority will also be tasked with the initiative to draft and implement regulations to oversee the new recreational cannabis industry.
The campaign's representatives claimed that getting the signatures needed to qualify for the ballot initiative was quick across the state. According to them, polling data also suggested that Oklahomans showed strong support for recreational cannabis use. The Oklahomans for Sensible Marijuana Laws had until August 1 to collect 94,910 to qualify the initiative for this year's ballot. But surprisingly, the required signatures were eclipsed by approximately 70,000 signatures following Tuesday's submission.
According to Michelle Tilley, the campaign director, the number of signatures they were able to collect shows that there's enough momentum for the campaign. Most importantly, it shows that Oklahomans are prepared to vote for recreational marijuana legalization.
Ryan Kiesel, the senior campaign adviser also indicated that he anticipates the initiative to be popular among voters during the November elections. Taking to local media, Ryan affirmed that activists are expecting Oklahomans to say yes to the initiative.
Initiative Encompasses Provisions for Expungement of Cannabis-Related Crimes
e Question 820 also features provisions that enable individuals with previous cannabis convictions to appeal to the courts to nullify their conviction and have their criminal record erased. Representatives of the campaign strongly believe that thousands of people would benefit from a clean criminal record under the initiative.
Kiesel affirmed that Oklahomans are in support of the bill as they believe people should not be repeatedly punished for an action that's no longer criminal.
State Question 820 is also said to set a 15% tax on recreational cannabis sales, which slightly doubles the 7% tax rate tax on medical cannabis sales. Revenues generated from taxes on reactions to cannabis sales would then be allocated to drug treatment programs, school districts, the state court system, and local governments that permit the operations of legal recreational cannabis businesses. Kiesel also pointed out that legalized adult-use cannabis provides the state with a new and massive revenue source.
Kiesel trying to set things clear affirmed that medical cannabis was never meant to generate huge revenue for Oklahoma, it is purely about medicine. But when it comes to recreational cannabis, it is a huge revenue generator. The revenue that is presently generated from medical cannabis will be considered very small, considering the amount of revenue expected from recreational cannabis sales. 
Meanwhile, as petitions supporting the initiative gained massive support in the metropolitan areas of Oklahoma, Question 820 also has considerable voters outside Oklahoma City and Tulsa. Kiesel affirmed that the campaign starting from Ardmore to Broken Bow to Woodward has reached everywhere.
Based on Kiesel's assertions, the initiative had received massive support and the momentum for the campaign is at an all-time high. The number of signatures collected indicates that Oklahomans are prepared to vote for recreational cannabis laws, facilitating huge investments in crucial state services.
Recreational Cannabis Could Also be Legalized By Constitutional Amendment Initiative in Oklahoma
A different group, known as Oklahomans for Responsible Cannabis Action, is also campaigning for the enactment of a state constitutional initiative. The initiative is said to help legalize recreational cannabis sales and use for adults. However, given that State Question 819, would revise the Oklahoma Constitution, the faction has been given approximately 3 months to amass 177,957 signatures in favor of the initiative. By so doing, the endeavor will be able to qualify for the November ballot initiative.
In an attempt to amend the present Oklahoma Constitution, State Question 819 would be accountable to only nominal revisions of its requirements by the state legislature if enacted. Nonetheless, the need for a more significant change would require Oklahomans to take another vote. But as things are, State Question 820 is at risk of more substantial alterations by lawmakers considering it is a statutory initiative.
The Oklahomans for Responsible Cannabis Action's campaign director, Jed Green, claimed that recreational cannabis legalization should be consecrated in the state constitution. In so doing, it will be protected from any attempt of being rolled back by a state legislature that is against legal cannabis use by adults.
According to Green, the present situation being faced with the established statutory measure is that the legislature is relating the Oklahoma double standard to cannabis businesses. Green affirmed that the legislature came in an unexpectedly increased several fees while enacting new regulations on cannabis businesses.
With the enactment of State Question 788, Oklahomans legalized the sales and use of medical cannabis in 2018. But since thr initiative is also a statutory initiative, the Oklahomans for Responsible Cannabis Action is now campaigning for the enactment of State Question 818. State Question 818 is said to revise the state constitution to protect the legalization of the sale and use of medical cannabis. The group has until thr 22nd of August 2022 to collect more than 170,000 signatures for both proposed initiatives. 
Conclusion
The cannabis industry has witnessed nothing but support and growth in Oklahoma in the last few years. With medical cannabis reforms have come into full play, many Oklahomans are now well aware of the massive economic benefits the state can again from the legalization of recreational cannabis.
Considering the number of signatures on the petition, truly, support for cannabis legalization is at an all-time high and Oklahomans are ready to vote in the State Question 820 come November.
MORE ON OKLAHOMA WEED, READ THESE…
CAN OKLAHMOA GET RECREATIONAL CANNABIS APPROVED?
OR..
[ad_2]

Source link